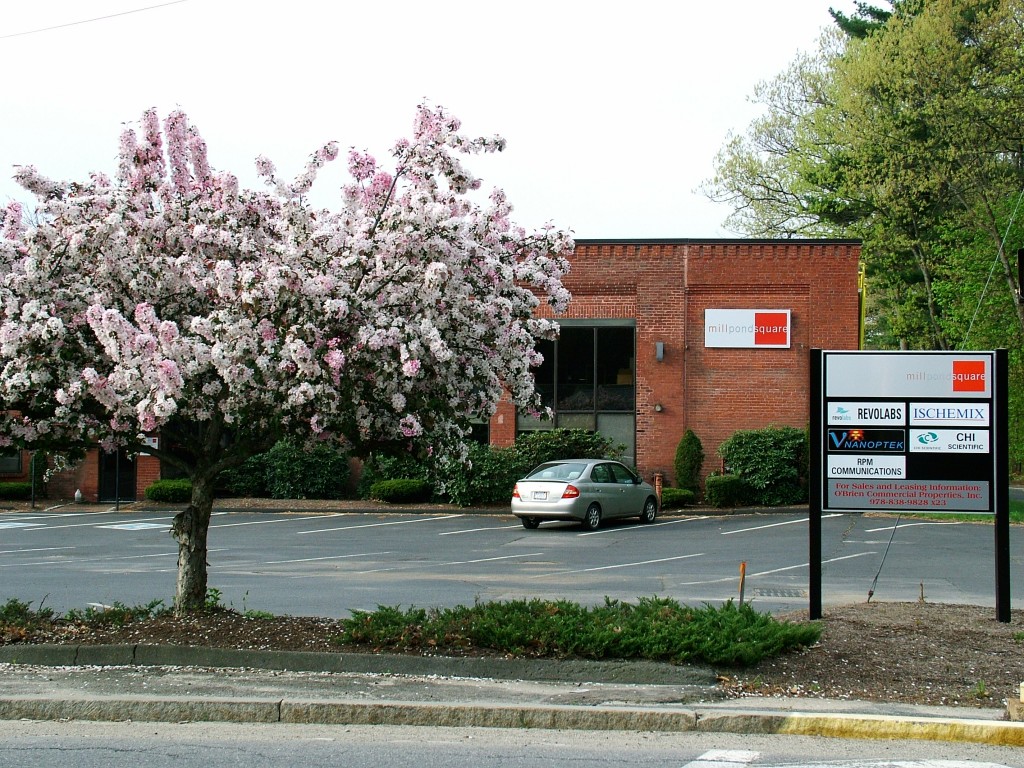 (Please call or email first) Nanoptek Corp. (63 Great Rd.) is in Mill Pond Square at the intersection of Route 117 and Route 62 in Maynard. If approaching from Maynard Center on Route 62 (Main Street), please wait for the green left hand turn arrow (oncoming traffic on Rt. 117 is very fast and the sightline is poor).  After making this left hand turn, immediately turn right into the Mill Pond Square parking lot. Continue to the back parking lot and park anywhere there or in the side lot along the Mill Pond. Enter the adjacent lobby for Nanoptek.
From Logan Airport and Boston (about 55 minutes depending on time of day) :
Merge onto I-90 West (Mass Pike, Massachusetts Turnpike) and take for 14.5 miles.  This is a toll road.
Take I-95 / Rt.-128 exit (EXIT 15) toward Waltham/Dedham for 0.4 miles.
Take the I-95 N / Rt-30 / Rt.128N exit on the LEFT toward NH-MAINE / POINTS NORTH for 0.5 mile
Merge onto I-95 N / MA-128 N via the exit on the LEFT toward Waltham / Gloucester, and continue on this for 6.2 miles
Take EXIT 29B for MA-2 W (Acton / Fitchburg) and continue on MA-2 W for 4.0 miles
At the lights at the bottom of a long hill, take LEFT to continue on MA-2 / Concord Turnpike for 3.3 miles*
Take left onto MA-62 / Main St. at second set of lights after passing Emerson Hospital on your left
After 0.7 miles, take left at light to continue on MA-62 / Main St. (The 99 Restaurant is on the corner)
Continue for 3.5 miles through West Concord, Acton, and into Maynard and take right run at light onto Waltham St / MA-27 / MA-62, and continue to follow MA-62 for 0.2 miles into Maynard Center
Turn LEFT at light onto Nason St. / MA-62W
After 0.1 mile turn RIGHT onto Main St / MA-62 and continue past Clock Tower Place (on your left) for 0.8 mile.
At light at T intersection with Rt. 117, take sharp left WHEN ARROW TURNS GREEN.
Take quick right into Mill Pond Square parking lot.
Continue around to back of building and park anywhere close to the Nanoptek loading dock door.
Enter lobby on the side of the building facing the woods and river.  Nanoptek is the first door on the right.
On leaving the parking lot, use the traffic light, but please be careful because many drivers on Rt. 117 run their red light.
*Touring notes: At direction No. 6 above, continuing straight, instead of taking left, will bring you into Concord Center (Old North Bridge, Louisa May Alcott's House, Emerson's House, Hawthorne's House, The Colonial Inn, the Concord Public Library with many original documents from Concord's many famous authors, and many other sites), taking a right will bring you to Lexington and, along the way, Battle Road and the Paul Revere Site, while taking the left and then another left at the Rt. 126 intersection will bring you to Walden Pond and a replica of Thoreau's cabin, and then the town of Lincoln with additional conservation areas and the Mass. Audubon's Drumlin Farm Wildlife Sanctuary. West Concord, Maynard, Acton, and Harvard also are charming and offer many historical sites and conservation areas as well.
From D.C., N.Y., Western Mass.:
Take U.S. Rt. 95 North to U.S. Rt. 91 North to U.S. Rt. 84 East to U.S. 90 (Mass Pike, a toll road)
Take Mass Pike East to RT. 495 North
Take Route 495 North
Take Exit 27 for Route 117 East
Turn left at end of exit for Route 117 East (Stow and Maynard)
Stay on Route 117 East through Bolton and then Stow, about 12 to 15 minutes
Continue on RT. 117 and just after entering Maynard, watch for traffic light
At the traffic light (Mobile Station in the center), continue straight through intersection and take immediate right into Mill Pond Square parking lot